Small actions, big impact - how to harness the power of influencer marketing to grow your brand in China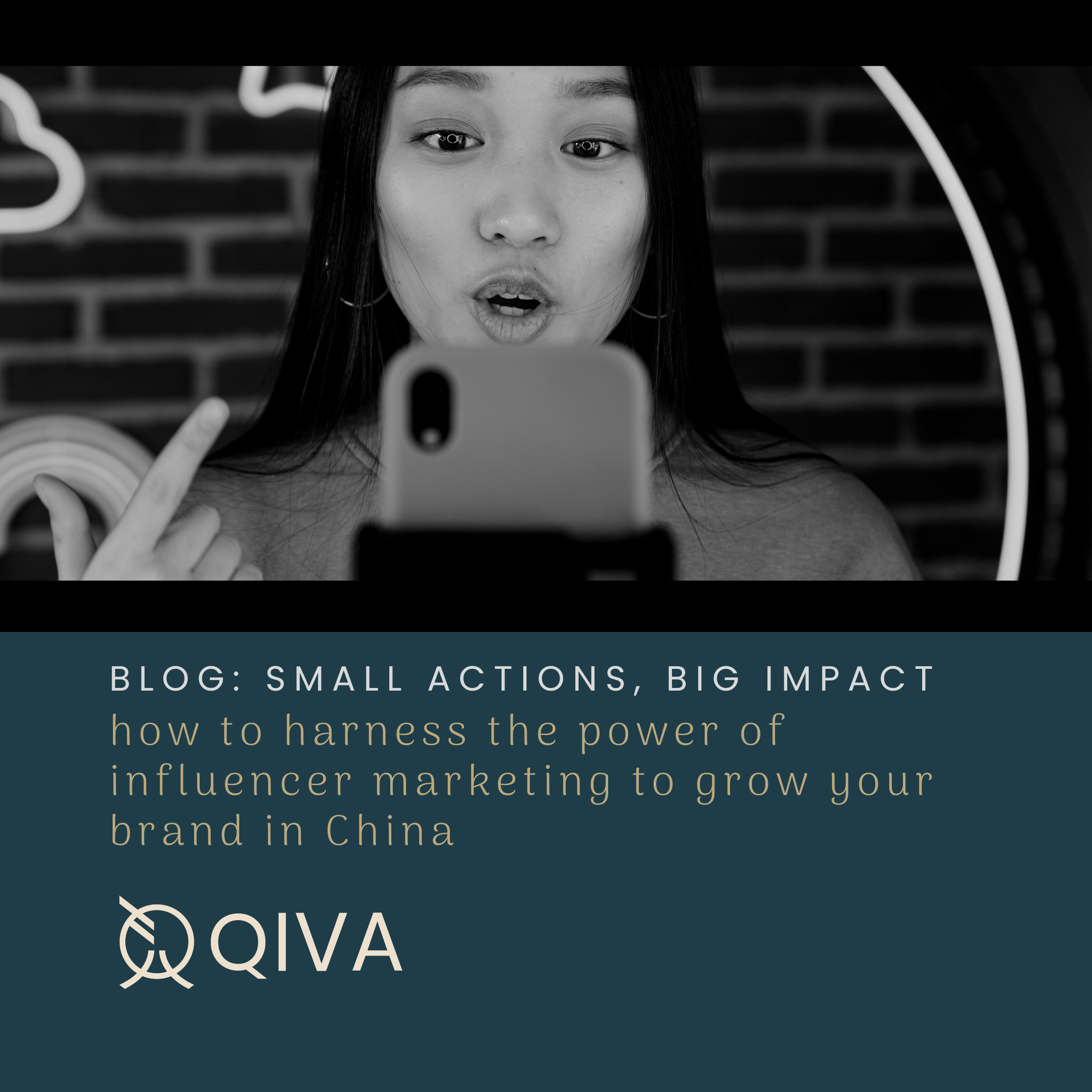 If you want to grow your brand in a new market, it can be tempting to simply replicate the strategy you used in your home market. However, if you're looking at China in particular, you might be surprised at the differences in consumer behaviour. What worked in your home market might not work in a new one, particularly one where you need to build your reputation from scratch. Where can you start? This is where we at QIVA make use of the ripple effect with our clients, by identifying KOLs (particularly well-respected influencers) that can help them slowly and sustainably build their credibility with a new consumer group.  
So what is a key opinion leader (KOL) and how do they differ from an influencer? The important distinction is that a KOL has an established reputation in their marketplace, is trusted by their followers and has proven expertise in a particular area. You set up your business to engage with and solve problems for real humans and to serve them in some way. Although influencer marketing might sound like a risky prospect and China might seem like a massive market, the beauty of connecting with the right KOL is that you're just connecting with a human being. By leveraging the loyal following they have built themselves, you're having a conversation with an individual, not the Chinese market as a whole. Influencer marketing essentially makes a new market instantly accessible, in a way many other forms of marketing do not. 
Here are our top tips for identifying and working with a KOL and making the most of your influencer marketing strategy: 
- Your first priority is to understand who you are targeting, and find a selection of influencers who represent the audience that you want to speak to. 
- Look for influencers who have built real trust and loyalty with their followers. Although it can be easy to buy likes or followers in China, there's no substitute for real engagement. 
- Remember that influencers are people too! There's often a transactional attitude to working with influencers - but ideally they should be your first best customer. An influencer, managed well, can grow to become a channel for NPD, testing, and even sales. 
- Ensure you are measuring the right numbers - we aim for a certain number of viral posts a month, but prioritise monitoring organic search results rather than direct sales. Why? Algorithms – as soon as you start to make your content commercial, you start to compromise on the ripples you can create…and when your objective is generating trust and interest, it works against you to go too commercial, too early. 
- Choose KOLs who are commensurate with not just your positioning, but your maturity in market. If you're new in market and working with an "Internet Red" (a mega star!), does this look authentic? Fairly unlikely. Choose wisely and strategically. 
Need some help? 
If you'd like to better understand how to grow your brand in China through the power of influencer marketing, get in touch. We'd love to help you identify and connect with the best Key Opinion Leaders to reach new consumers in China.