How China's digital payment system enables direct-to-consumer trading in China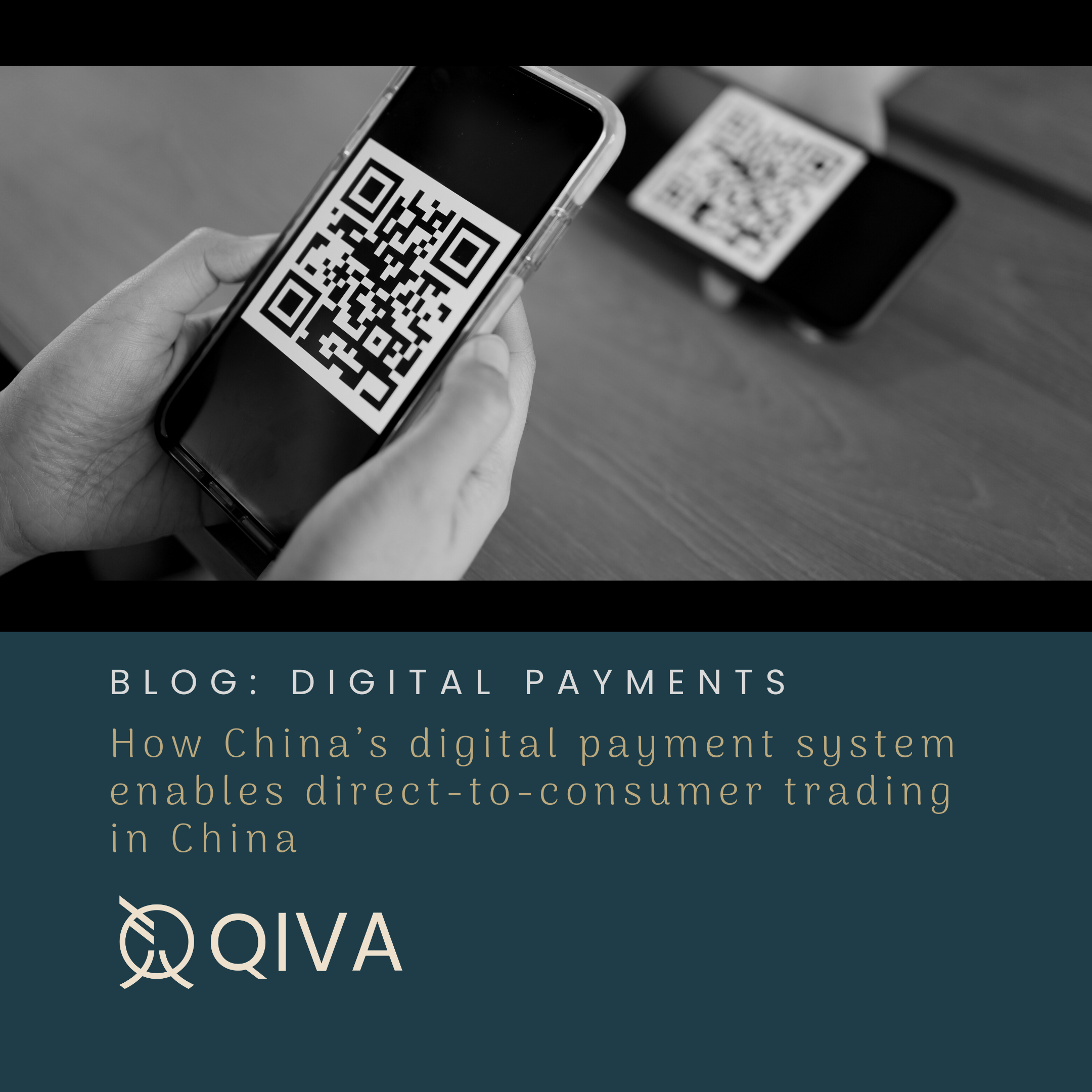 Where the West has been replacing bank-based magnetic stripe cards with chips, China has been doing something much more profound and exciting: transforming its payments system with digital wallets and QR codes, owned by their big tech firms. Alipay runs through Alibaba (China's own Amazon) and WeChat pay runs through Tencent (China's version of Tencent).  
Despite having the largest card network in the world, with 7.6 billion cards (note: only 9% are credit cards) and a dominant payment system (UnionPay) protected by refusal of market access to players like Visa, merchants were resistant to adopt traditional payment methods as a means of receiving customer money. The biggest reason for this was costs, which they didn't want to pass on to an end-customer, and technology – the faff involved in integrating card readers made it unattractive. Cash remained the dominant form of exchange. However, this obviously presented its own problems.  
The growth of smartphones and the introduction of a QR code created a new means of transacting money between a vendor and customer, where the customer provides the connection to make the transaction, not the bank. This lowered merchant costs further, presenting an easy solution for transacting online, which was low-cost and efficient.  
The rise of Alipay and WeChat pay is staggering – from 0 in 2012, to Alipay reaching over 1.2 billion monthly users in 2019 and WeChat pay surpassing one billion users in 2018. These two payment systems dominate the Chinese market, with over 90% of people in China's largest cities using WeChat and Alipay as their primary payment method, with cash second, then card-based debit or credit a distant third.  
So how do they enable trade with a customer? 
A digital wallet stores one or more of a customer's payment credentials and allows customers to electronically transmit funds. The wallet is generally funded by linking a bank account. This concept is different from a digital representation of a credit card, for example what is commonly done with Apple Pay. A digital wallet stores money, whereas a digital representation of a card simply substitutes the physical card for a virtual one.  
Each entity in the Alipay and WeChat Pay ecosystem has an assigned and unique QR code. The payment starts when one party scans the other's QR code – it doesn't matter who scans who, payer or payee. So when selling on an eCommerce platform, like Alibaba's Taobao / Tmall, consumers use Alipay. Therefore to trade with consumers, merchants need an Alipay account to enable the customer transaction.  
For D2C businesses in China, Alipay is a critical piece of "infrastructure" necessary to trade – its establishment and integration with your bank account forms a critical part of our new launch SOP. To learn more about Alipay integration, please come talk to us.