How to choose between D2C and Marketplace eCommerce in Asia?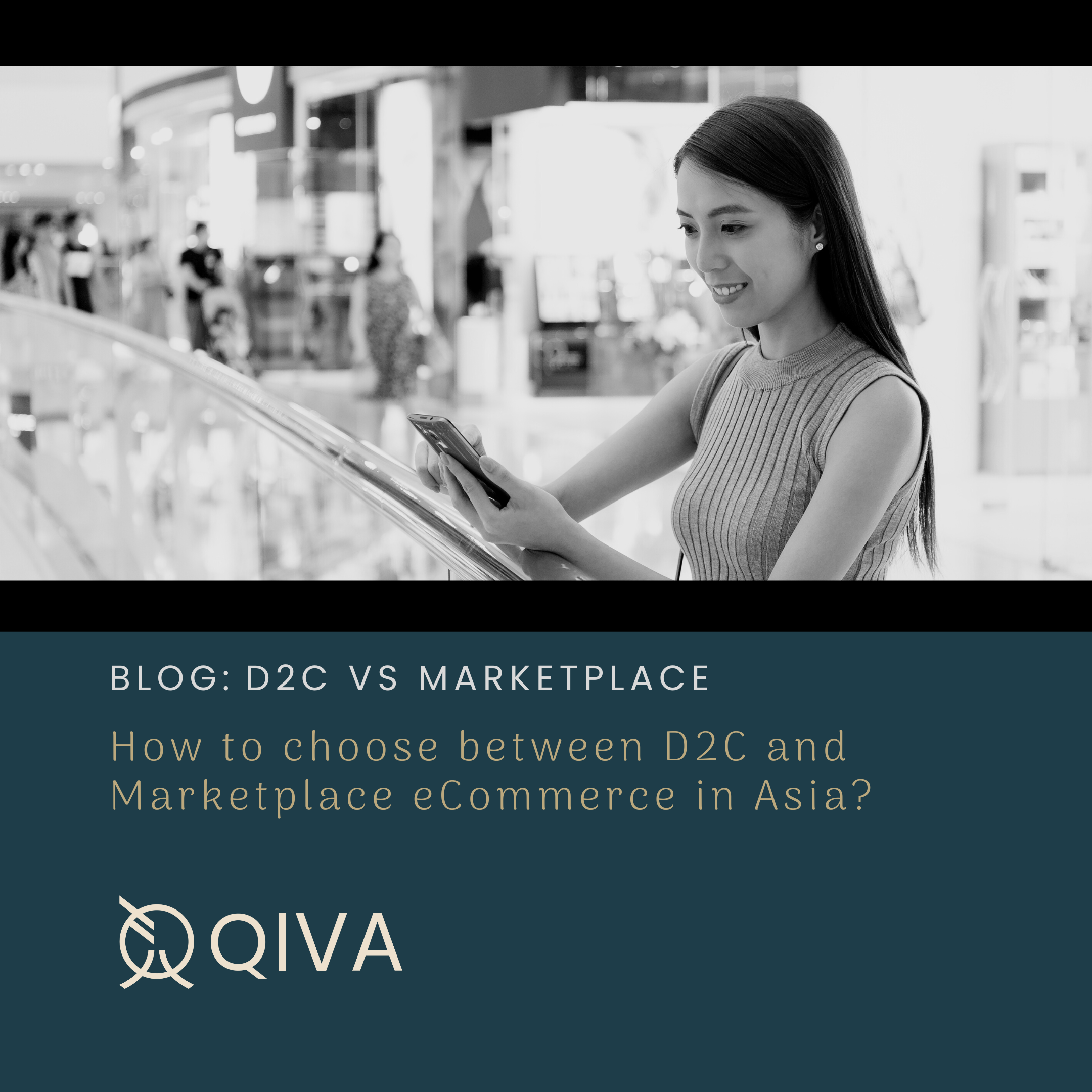 D2C (Direct-to-Consumer) and Marketplace eCommerce are two distinct approaches to online retail that offer different business models and strategies. In this blog, we break down the differences between them, with some additional insights regarding how these play out in Asia.  
1. Business Model
D2C: In a D2C model, companies sell their products directly to consumers without involving intermediaries or third-party retailers. They maintain complete control over the entire customer journey, from manufacturing to marketing, sales, and customer support. This can work really well in some markets (in Korea c. 50% of eCommerce occurs via D2C), and less well in others.
Marketplace eCommerce: Marketplaces are online platforms where multiple sellers can list and sell their products to consumers. These platforms act as intermediaries, facilitating transactions between buyers and sellers. Examples include Amazon, eBay, and Alibaba. While marketplace eCommerce is popular in most Asian markets (from Lazada, to Coupang to Tmall), markets such as China show almost complete dominance for this channel given its preference by consumers, but also the control this enables the Chinese government – one platform can be used to switch off everything.  
2. Control and Branding: 

D2C: Direct-to-Consumer brands have more control over their brand image, messaging, and customer experience. They can establish a direct relationship with customers and have the flexibility to customize their online store's design, product presentation, and overall brand identity.  
Marketplace eCommerce: Selling through a marketplace means sharing the platform's branding and user experience. While sellers can typically create their own seller profiles, they have limited control over the overall presentation of their products and brand. However certain marketplaces break this rule, such as Tmall, where the concept of "brand flagship store" offers a level of customisation and brand control.  
3. Customer Relationship
D2C: With D2C eCommerce, companies have a direct and intimate relationship with their customers. They have access to customer data, including purchase history, preferences, and contact information, enabling personalized marketing, customer support, and remarketing efforts. This is often one of the biggest reasons to set up D2C – it gives brands a complete view of a customer's journey and connects sales and marketing data. This works well in markets like Japan, Korea and SEA, where there is a high overlap in marketing tools – Meta, Google.  
Marketplace eCommerce: In a marketplace, the customer relationship primarily belongs to the platform. Sellers may have limited access to customer data, depending on the platform's policies. As a result, building a direct relationship with customers can be more challenging if not considered. QIVA has used initiatives like subscriptions and VIP memberships to find ways around this challenge and reward loyalty.  
4. Logistics and Fulfilment
D2C: Direct-to-Consumer brands handle their own logistics and fulfilment processes, which include warehousing, inventory management, packaging, and shipping. They have full control over the entire supply chain and can optimise it according to their specific needs.  
Marketplace eCommerce: Marketplaces often offer fulfilment services, such as Amazon's FBA (Fulfilment by Amazon) or Tmall Global's Cainiao system ("rookie logistics"), where sellers can store their products in Amazon's / Alibaba's FTZ warehouses and utilise their shipping and customer service infrastructure. This can simplify logistics for sellers, but they still need to comply with the marketplace's policies and guidelines. 
5. Cost Structure and Revenue
D2C: Direct-to-Consumer brands bear the costs associated with all aspects of their business, including production, marketing, customer acquisition, and infrastructure. However, they can potentially achieve higher profit margins by cutting out the middlemen.
Marketplace eCommerce: Sellers on marketplaces typically pay various fees, such as listing fees, commissions on sales, and fulfilment fees. These costs can eat into profit margins, but sellers benefit from the marketplace's existing customer base and marketing efforts. The fees vary by platform. In China, a healthcare brand will pay c. 3% commission on sales. In Japan, this is more towards 10%, but there is a lower annual fee. A good partner will know the fee structure and be able to guide you as you finalise your P&L.   
Ultimately, the choice between D2C and Marketplace eCommerce depends on what you want to achieve in market, the nuances of that market and what's actually possible! Here at QIVA, we have worked with companies who have been steered down one or other route and found that it hasn't worked. Therefore the first thing we do with our clients is get clear on their objectives and the business model that will help them achieve it. For example, speaking with a recent client, they had been sold a D2C model but it was generating next to no sales – this is hardly surprising when you examine the fundamentals of their business. To ask why before you diagnose the 'how' takes effort, but it pays off!