Is China still a key market for European pharma? Here's the healthcare industry outlook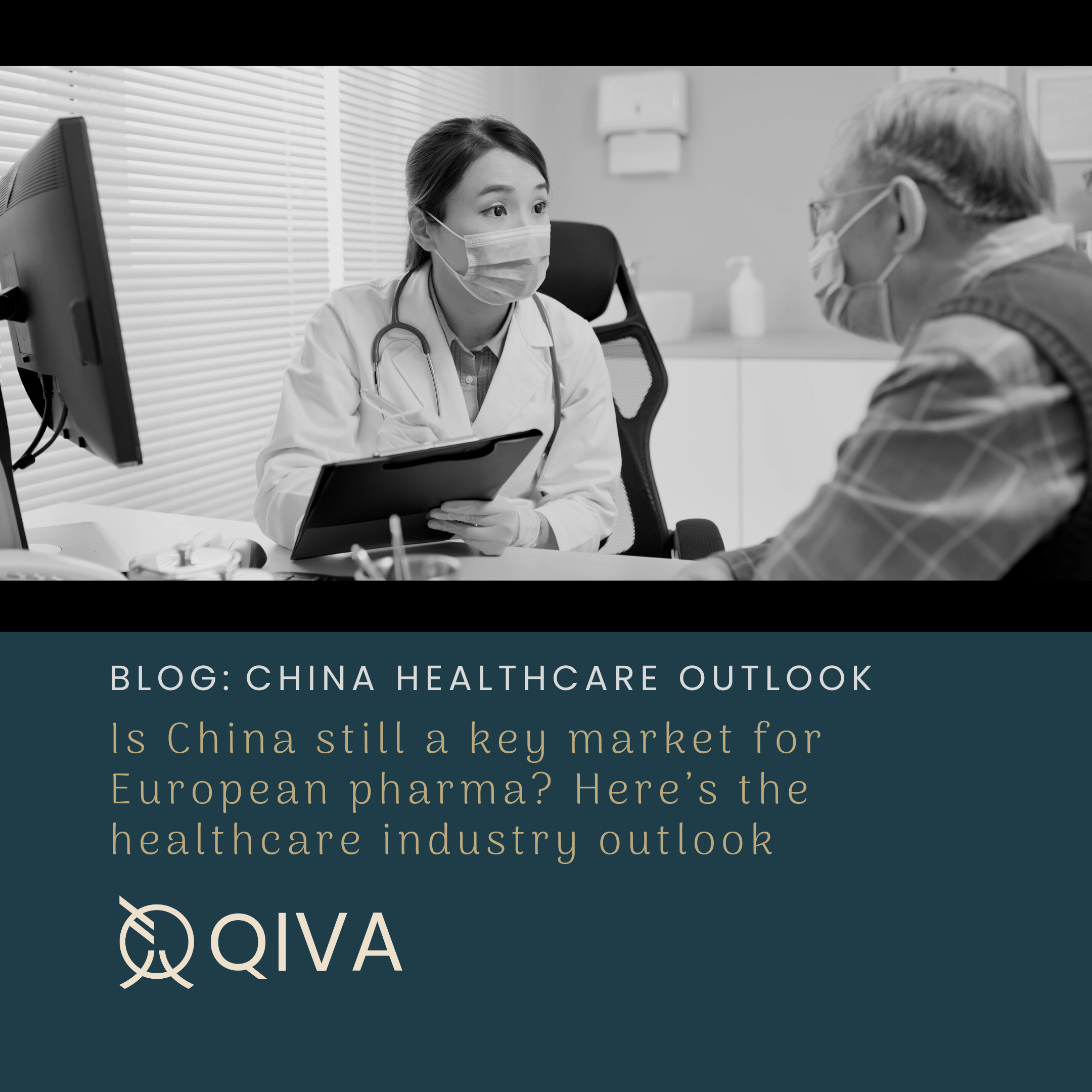 Since 2021, China's healthcare market has been undergoing significant growth and transformation, driven by factors such as an aging population, increasing healthcare awareness, rising income levels, and government initiatives. In this blog, we outline some of the major drivers behind its growth and outline our recommended approach to how European pharma can enter and grow in this dynamic market.  
We identified 12 key drivers of healthcare growth from our research: 
Aging Population: China has a rapidly aging population, which is leading to increased demand for healthcare services, pharmaceuticals, and medical devices related to age-related illnesses. To put this in some context, the population aged 65 years or older has grown significantly, from 9.1% of the population in 2011 to 14.9% in 2022. 

Healthcare Reforms: The Chinese government has been implementing healthcare reforms to improve the accessibility and quality of healthcare services, including initiatives to expand insurance coverage and upgrade healthcare infrastructure. Key among them is the "Healthy China 2030" initiative. Released in 2016, this is the government's core agenda for the development of the healthcare industry and covers strategies for a broad range of development objectives, from reducing infant mortality rates to improving air pollution. One of the core goals of the agenda was for the healthcare service industry to reach a value of RMB 16 trillion (approx. US$2.4 trillion) by 2030. 
In mid-2022, the NDRC released the 14th Five-Year Plan for National Health, which builds upon the goals of Healthy China 2030 and sets a variety of health targets for 2025. 
Rising Middle Class: China's growing middle class with higher disposable income is a strong contributing factor to increased spending on healthcare services, wellness products, and higher-quality medical treatments. Total spending per capita in 2021 reached RMB 5,248 (approx. US$813.4), up from RMB 5,111 (approx. US$740) in 2020. However, there is still a lot of room for China's healthcare expenditure to grow, as it is still below that of many high-income nations. In South Korea, for instance, healthcare expenditure in 2021 accounted for 8.8% of GDP, while Germany and France stood at 12.8% and 12.4%, respectively. 

Digital Health: The adoption of digital technologies in healthcare is also on the rise, including telemedicine, health apps, and wearable devices. This trend accelerated following the COVID-19 pandemic, forcing existing platforms to rapidly expand their user base and motivating traditional healthcare institutions to offer online services to patients for the first time. 

E-Commerce and Retail Pharmacies: The popularity of online shopping and e-commerce platforms is also influencing the healthcare market, with a growing number of consumers purchasing medicines and healthcare products online. In 2022, c. 27% of total retail sales in China were made online.   

Biopharmaceutical Industry: China has been investing in the development of its biopharmaceutical industry, aiming to become a global player in drug discovery, development, and production. The market value of publicly listed biopharma innovation players from China across the Nasdaq, Hong Kong Stock Exchange (HKEX), and Shanghai Stock Exchange Science and Technology Innovation Board (STAR) has surged from $3 billion in 2016 to more than $380 billion in July 2021. Biotechnology companies originating in China accounted for $180 billion of that total. 

Medical Tourism: China is becoming a destination for medical tourism, with international patients seeking medical treatments in the country. 

Healthcare Infrastructure: The construction and expansion of healthcare facilities, including hospitals and clinics, continue to meet the growing demand for healthcare services. At the end of 2021, there were over one million healthcare institutions in China, 8,013 more than in 2020. Among these, there were 36,570 hospitals, an increase of 1,176 from 2020, of which 11,804 were public and 24,766 were private. This means there was an average of two hospitals for every 100,000 residents. This number is expected to increase to three for every 100,000 residents in 2022 and 2023, according to data from Statista. 
Meanwhile, revenue from hospitals reached US$580 billion in 2021, an increase of 12.9% from the previous year. Revenue is expected to reach almost US$1 trillion by 2027, growing at a CAGR of 7.57%. 
Regulatory Changes: Ongoing regulatory changes are impacting drug approvals, intellectual property protection and market access, for foreign pharmaceutical companies. The healthcare industry has long been one of the government's highest priority areas for investment. The Catalogue of Industries Encouraged for Foreign Investment has continued to increase the number of items related to healthcare in recent years. The 2022 catalogue added several new medical fields, including R&D and production of drugs for rare diseases and special drugs for children, manufacturing of dental implant systems for implant repair in patients with bone loss, manufacturing of hearing aid and cochlear implants, postpartum maternal and child services in maternity centres, and rehabilitation institutes for autistic children, among others. 

Innovative Healthcare Models: China has been exploring innovative healthcare delivery models, including public-private partnerships, to improve healthcare accessibility and quality. 

Traditional Chinese Medicine: Traditional Chinese medicine (TCM) remains an important aspect of China's healthcare landscape and is integrated into modern healthcare practices. 

Chronic Disease Management: With the rise of lifestyle-related diseases, there is an increasing focus on preventive and chronic disease management services. Chronic, non-communicable diseases account for an estimated 80% of total deaths and 70% of disability-adjusted life years (DALYs) lost in China. 

So what does this mean for European pharma? How can we help you? 
Entering the domestic Chinese healthcare market can be a complex process due to regulatory requirements, cultural considerations, and market dynamics. Yet, owing to the advancement of China's eCommerce landscape, there are routes into market that provide rapid and low risk routes to entry. At QIVA we therefore advocate new entrants to first enter via eCommerce – it provides cost-effective routes for learning, and a rapid path for scaling upon positive results. Done in conjunction with ePharmacy and regulatory clearance, it provides pharmaceutical firms with a staged expansion pathway into omni-channel sales.  
In terms of regulations, it is important for us to first establish your classification as it stands in your home market. While cross-border eCommerce enables brands to trade without obtaining NMPA clearance, the processes and protocols that we adopt as a sales partner, will need to reflect the status as determined by the EMA or FDA. As an example, an OTC brand will have additional supply chain considerations – both from how we supply customers, but also from a governance perspective.  
The next critical piece is determining your market potential – is there demand for what you offer, and how can we uniquely present this to your target consumer? This stage is often bypassed, yet it remains critical to evaluating your market potential and building a robust business in China. If the outcome is good, you are set to launch. If the outcome looks less positive, it's an extremely cost-effective investment to avoid significant losses!  
If you want to talk to us about launching your healthcare brand in China, we would love to hear from you. Come talk to us today to learn more about the work we do, and how we can help you.