Top eCommerce mistakes: your guide to avoiding the biggest pitfalls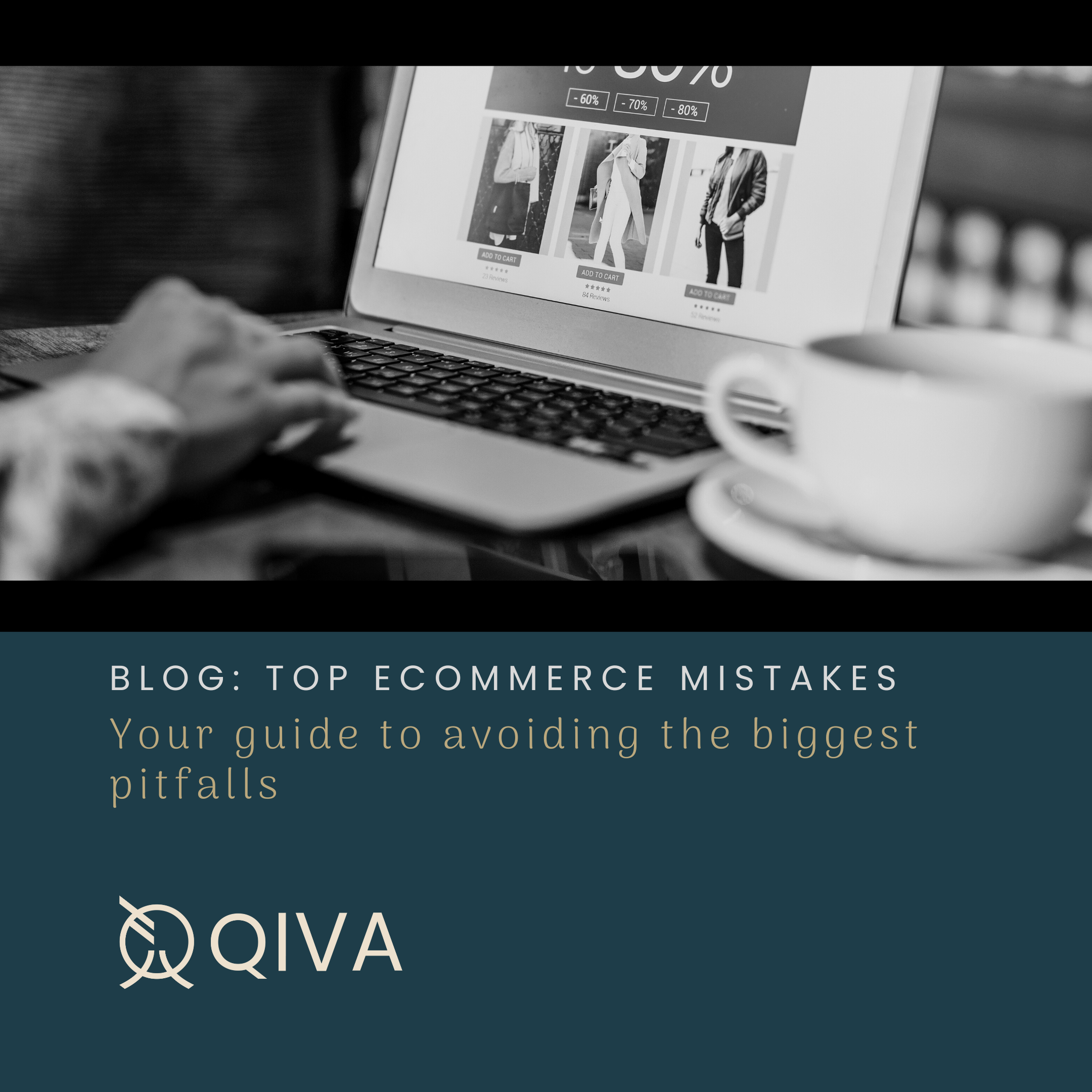 Launching on an eCommerce platform is a big move, no matter where you are in your journey as a brand. The route to success is seldom free of errors, but fear not, you needn't learn all of them the hard way. In this blog we aim to help you understand the facts, so that you can avoid the common eCommerce mistakes that trip so many businesses up along the way. Forewarned is forearmed, after all!  
Why is eCommerce hard? 
Contrary to popular belief, here at QIVA we believe that eCommerce is actually quite formulaic. The pitfalls tend to arise in the gap between what you want your customer to experience vs what they actually experience. For example, businesses want to ensure customers receive their orders on time and in good condition – this is complex and naturally demands attention. As a customer, we want a seamless ordering process, but this comes at the tail end of our experience of you, the business. Customers are likely to punish poor delivery, but the gold standard here is that they take your delivery service for granted.  
What are your real-life customers experiencing?  
This is, in fact, the first question you need to be asking yourself. The truth is: before you do anything else you need to earn your right to sell to your customers. This covers a lot of hard graft, including explaining why your solution provides better results than the competition, proving your solution works, showing you can be trusted and ARE trusted by people just like them. The ways in which this is achieved are myriad and multi-channel – it could be through social, influencers, product reviews, clinical trials. But at the end of the day, this is where your customers will focus before they test your logistics. 
Another key part of the puzzle is your pricing strategy – who is it for? Too many eCommerce sellers think about only one customer – the consumer. But your pricing strategy if done well should deliver three key objectives: i) position you and your reputation in the market, ii) make opportunities for new business customers (who will be focusing on margin), and iii) incentivise the behaviours you want to see from your customers. As an example, if I want to raise my average transaction value as my key objective, I'm going to focus my pricing promotions on bundles. Pricing needs purpose.   
A final area to consider is how and where you "touch" and measure customer behaviours throughout their purchase journey. Creating data feedback loops that monitor and gauge a customer experience are invaluable and can help you monitor the experience they are having and how they are responding to the experience you think you're giving. Simple metrics such as UV, CVR, CTR are available across sales and marketing channels, allowing you to build visibility throughout the purchase funnel.  
Take a customer-first approach  
In summary, while there are many pitfalls to eCommerce, there is one thread that holds them all together: focusing too much on what's right in front of you. Taking a customer-first approach will keep you focused on your customer's experience of you. Remaining objective is key. Step into your customers' shoes and answer their pain points. If you're not sure what they are, then do your research. Finding a good operating partner to solve operational challenges will free up your time and resource to get to know your customer experience from their point of view. So long as you ensure you're approaching these common pitfalls by asking questions from both perspectives, you're more likely to make a success of your eCommerce venture and get the best out of your operational partner. 
So what now? 
Supporting you with eCommerce strategy and execution is what we do. We ask the right questions so you get the right answers. If you are looking to sidestep eCommerce pitfalls and achieve your goals, get in touch and let's have a conversation.